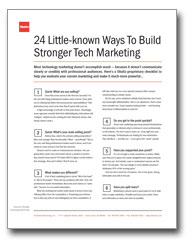 In over twenty-five years, this agency has learned a couple things about how to do B2B tech marketing right. And we've also developed a number of proprietary tactics and original strategies for building stronger business-to-business marketing...
Many of these are described in this special checklist which is guaranteed to put more clarity and power into your communications.
To receive your own complimentary copy, just email us at al@alshultz.com.